Millennium Global Management Job Tracking!!
---
---
*Click for Millennium Documentation

for Job Tracking with Bar Code Scanner, Badge Creator and full Reporting. $775 (Single Computer for 5 or more users), $1150 (Network with multiple computers).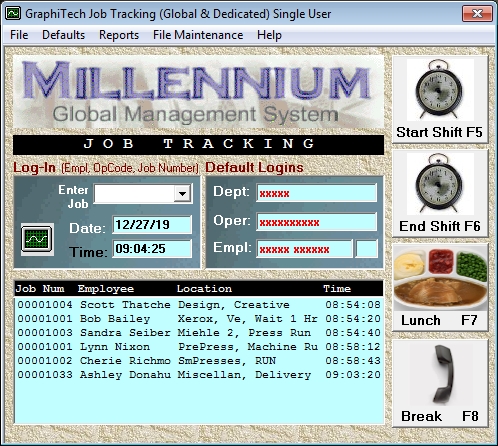 Click for Brochure: Real-Time Job Tracking using Wireless Bar Code Scanner. Instantly identify not only the current location, but also all previous activity for any job in the plant. Easily save hundreds of hours annually in locating jobs, both in the plant as well as those "on hold", "at your Vendors", or even in remote plants. And you can use Touch Screens and Bar Code Readers.
Instantly locate any job within the plant
Provide Morning Production Report for CSR's
Review employee log-ins
Determine if jobs are past due
Review Time Cards.
(See Millennium Documentation for all Reports and Utilities)
Reports include: Past Due Jobs, Job Location, CSR Production Meeting, Job Listings, Printed Work Order and Daily Activity.
Utilities Include: Department/Operation Sheet for all Departments, Employee Badge Creator, Customer Import from Quickbooks.
Package Contents: Job Tracking Software, Badge Creator


Module, Sample Scan Sheet, Documentation Manual, Bar Code Scanner, Bluetooth Receiver for remote use of bar code reader and 5 Badge Holders with Clips. Note that Network (Multi-Computer) version includes additional Bar Code Scanner plus 5 additional badge holders and clips.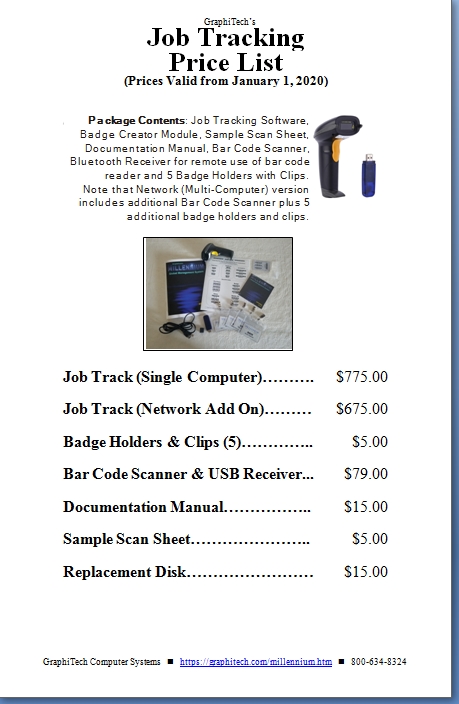 ---
*Optimized for Windows 7, 8 and/or 10.