About Us
Who is our founder?
The GraphiTech System was designed by Scott Thatcher.

Mr. Thatcher was associated with the Printing Industry for over 15 years as a pressman, camera operator, and typographer while working at his father's plant in Evanston, Illinois. In addition Mr. Thatcher is a graduate Engineer. He has provided programming support and analyses to NASA's Apollo Application Program for Cryogenic Gas Storage Systems and helped to develop sophisticated systems while employed at P&WA in West Palm Beach.
Since 1978, he has been developing software through GraphiTech for the Graphic Arts Industry. His expertise in both the fields of science and printing make him well qualified to undertake a program with this degree of sophistication. As Mr. Thatcher has said, "The variables involved in the printing process are just as complex as many state-of-the-art systems now on the boards. To be an "estimator" requires a high degree of logic and the ability to perceive the impact of many operations on the final product cost."
In the Beginning:
It was in those early years that a co-worker whose wife had a printing company asked Scott to develop an estimating system. At the time, there were only 7 companies involved in developing software and all the solutions ran on IBM 360's or larger. So, early in 1978 after looking over the various small computers that were available at the time, Scott concluded that a TI-59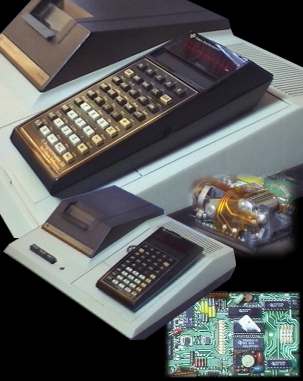 programmable calculator was by far the best possible solution to a low cost estimating system. And after 4 months of programming in an Algebraic Operating System, he was off to Lubbock, TX (headquarters of Texas Instruments) to program the Eprom required for the heart of the system.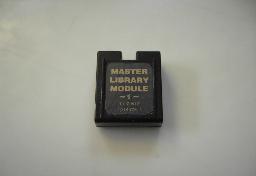 Kodak already had their camera programs embedded on these chips and there just wasn't anything else that had both the capacity, cost effectiveness and simplicity of the TI-59. Thus, the GraphiTech "AlphaTrack" system was born!
The Big Start:
Then, with the help of a friend in the Quick Printing business, Big Red Q ordered almost the entire first run of chips in order to supply their franchisees with this incredible little machine.
Things were moving fast back then as companies like Radio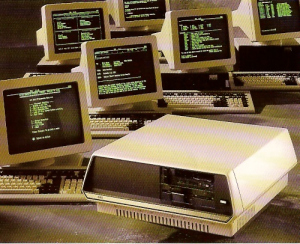 Shack, Zorba, Apple and Osborne were developing their computers using the CPM operating system or proprietary OpSys. Then, later in 1981 came IBM and an operating system called MS-DOS from a small start-up called Microsoft. In just three short years we had gone from running on a programmable calculator to running on no less that 8 different computers including one of the first multi-user Unix systems from Altos.
The Growing Years:
Between 1981 and 1990, GraphiTech Computer Systems mushroomed into a dominant player in the world of Printing Management Systems. Starting with a simple estimating program on a TI-59 and then later developing software for Multi-User and Server based systems. Software products included high-end Estimating with numerous automated features, Full Accounting (GL, AR, AP, & PIA Ratio Study Reports), Invoicing for third party accounting (DataPro Infinity and QuickBooks), Inventory Management, Scheduling, Data Collection including KeyPads with bar code scanners, Terminal data collection and personal hand-held scanners that could be used to capture data even while making deliveries. And the products are continuing to be developed...
Where we're going:
Today, GraphiTech is focused on converting much of our software to the dot net platform. This is a logical transformation since most of our middle line products had been written in Visual Basic. In addition, we are reviewing products that can be developed with cell phone technolgy (both Android and iPhone) since we are certain the day will arrive shortly that most estimating and data collection will be done in the cloud. For sensitive data, we also believe that the corporate level computer will remain as the mainstay of Printing Management Software.
Team Bio:

Sandra Seibert, Vice-Pres. Finance : Sandra provides both direction and motivation. She is responsible for keeping the books in order, organizing seminars and trade shows, maintaining customer contacts and providing direction for the company.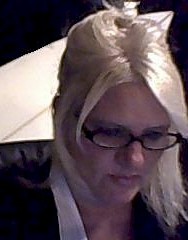 Cherie Richmond, Graphics Coordinator. Cherie handles much of our web design and coordinates between project development and advertising promotions.

Scott Thatcher, Pres.: Scott is the founder of GraphiTech and is both senior programmer and in charge of Technical Support. He may be reached by calling 800-634-8324.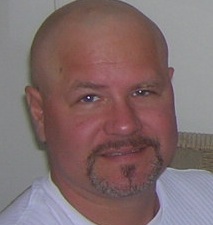 Tim Richmond, Manager: Coordinates shipping and receiving and acts as coordinator of seminars & shows while maintaining contact with various hotel and show personnel. Tim also identifies which banquet facilities are to be used when holding seminars.